Welcome to a world where preserves are part of memorable moments and lasting traditions
" The Fruity Kitchen products stood out from the very first time I tasted them. Such great flavour, and traditionally handmade batch by batch, you can really see and taste the difference against the other jams on the market. "
Robin Read - Group Executive Head Chef, Firmdale Hotels
All it takes for some personal feedback about the Fruity Kitchen range from Robin himself, is a simple request to us and we are happy to pass on his email contact.
It wasn't until we spoke to a number of well respected, forward-thinking chefs that we discovered a lack of truly great jam products in the London area.
Therefore Classic Fresh Foods are proud to finally introduce a truly stunning small batch, artisan product range from The Fruity Kitchen in Yorkshire to this great City of London!
At The Fruity Kitchen we are proud to have drawn inspiration from our childhood at our Gran's house and we are lucky to now be able to share this with you. We truly hope you enjoy tasting and experimenting with your own recipes using our products, as we not only offer preserves for that all-important breakfast but tasty ways to add a bit of spice to your dinners or create a wonderful dessert!
Using traditional open pan cooking methods we are able to create truly exceptional flavors.
"Machines just don't do it for us. Our products are handmade; each small batch uses traditional methods and open pan cooking."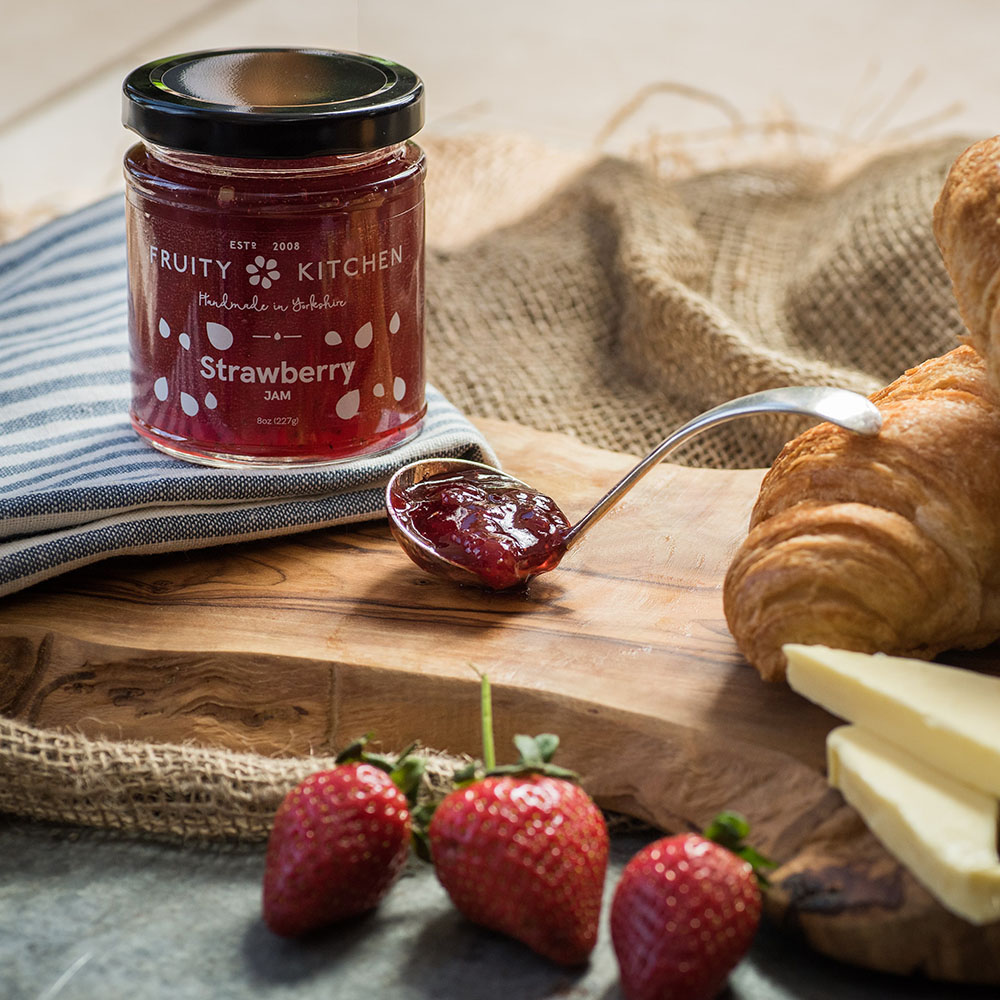 Each batch is expertly handmade with love and care! Although all the ingredients are the same, the final product is distinguished by feel, texture, smell, and taste.
Portions available in 28gram jar (approx.)
Strawberry Jam
Raspberry Jam
Blackcurrant Jam
Apricot & Passion Fruit Jam
Seville Orange Thin Cut Marmalade
Tutti Fruitti Jam
Fruity Brown Sauce
Tomato Sauce
Blossom Honey
(case size x 72 units)
Catering Tub 3kg (approx.)
Jams and Preserves:
Blackcurrant Jam
Raspberry Jam
Strawberry Jam
Blackberry Jam
Gooseberry Jam
Tutti Fruitti Jam
Apricot & Passion Fruit Jam
Marmalade:
Seville Orange Cut Marmalade
Three Fruit Marmalade
Chutneys:
Autumn Chutney with Black Sheep Ale
Harvest Chutney
Orchard Apples Chutney
Red Tomato Chutney

Relishes:
Red Onion Relish
Sweet Onion Relish

Sauces:
Cranberry Sauce
Fruity Brown Sauce
Tomato Sauce
For further information about this amazing range: